Why a
Donatos
Pizza Franchise?
Combine Your Drive with Donato's Franchising and Pizza Expertise.
With 60 years of premium pizza making behind us, Donatos knows the ins and outs of running a successful pizza business. Our restaurant Franchise Partners and associates embrace our business model and processes and share in our belief that every aspect of our business is important.
The three keys to the Donatos difference:
Abundance.
With an AUV among the highest in the industry over $1.23M*, an ROI that rivals any competitor and thousands of available trade areas, there has never been a more exciting time to invest in a proven concept and grow.
Purpose.
Our values aren't just words. They help us define who we are and how we choose to treat people. We believe that through pizza we can make a huge impact…with our people and the communities we serve.
Premium.
It's an experience you'll be proud to deliver. From pizzas loaded Edge to Edge® with abundant toppings on our golden, crispy thin crust to prominent restaurant locations with cool designs, your customers will be your best brand advocates.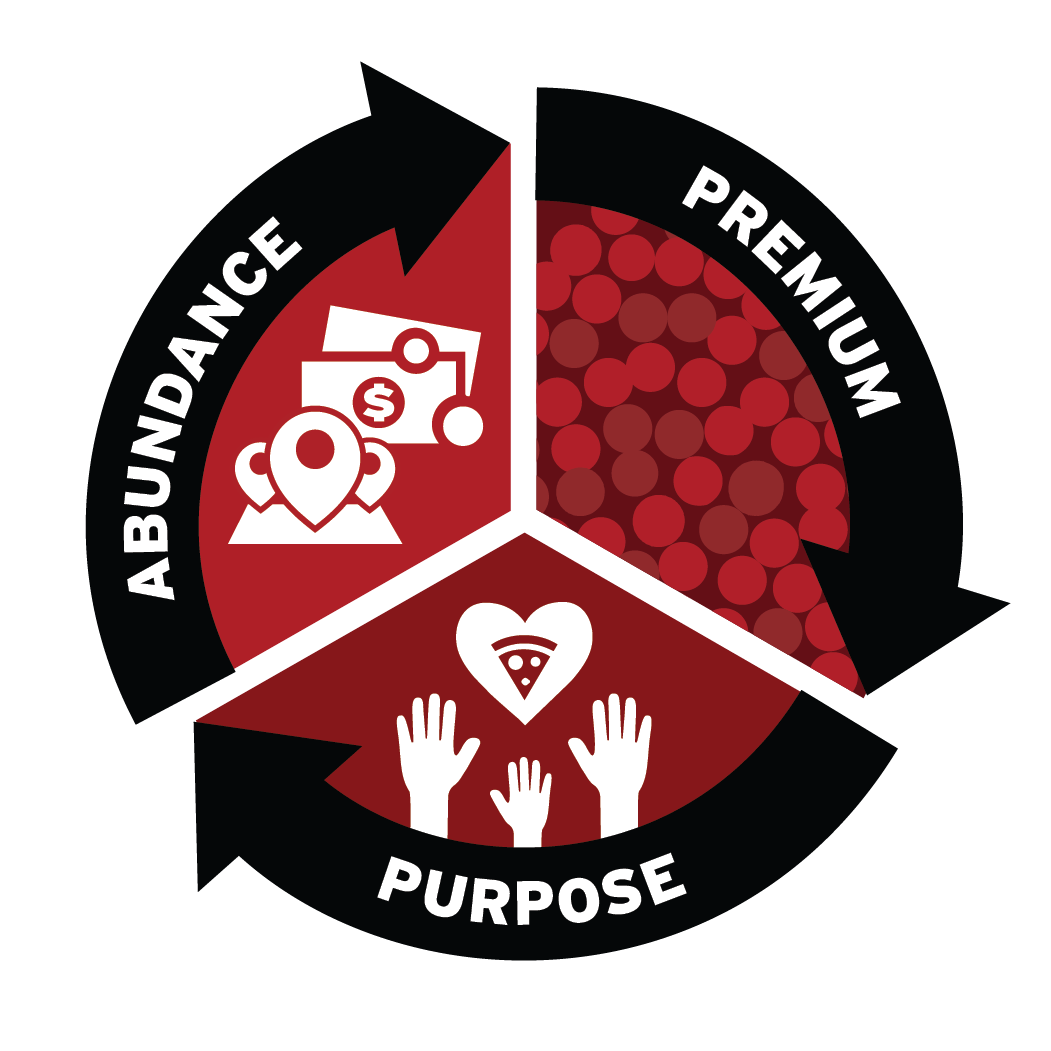 Pizza

Love Driven by People Love.
Choose to Partner With a Business that Prioritizes People.
Abundance, purpose, and premium—it's what Donatos is all about! Make a meaningful impact within your community while owning your own business. Want to hear from real partners? Visit our testimonial page.
A Restaurant with The Recipe for Success.
We use our 50+ company-owned restaurants as the testing grounds for new processes and menu items. When we know something works for both efficiency and profitability, we pass it on to our pizza Franchise Partners.
Here are just a few of the ways that you benefit:
Efficient kitchens allow popular menu items to be prepared to meet peak demand, as well as meet catering demand
Predictive intelligence calculates delivery times and demand for drivers
Guests can order easily from both the website and our app for delivery, drive-up, and pick up
Flexible restaurant designs such as drive-up windows enhance guest experience and therefore profitability
Donatos restaurants have a 35% higher AUV than the average of the Top 5 Pizza Chains in the US**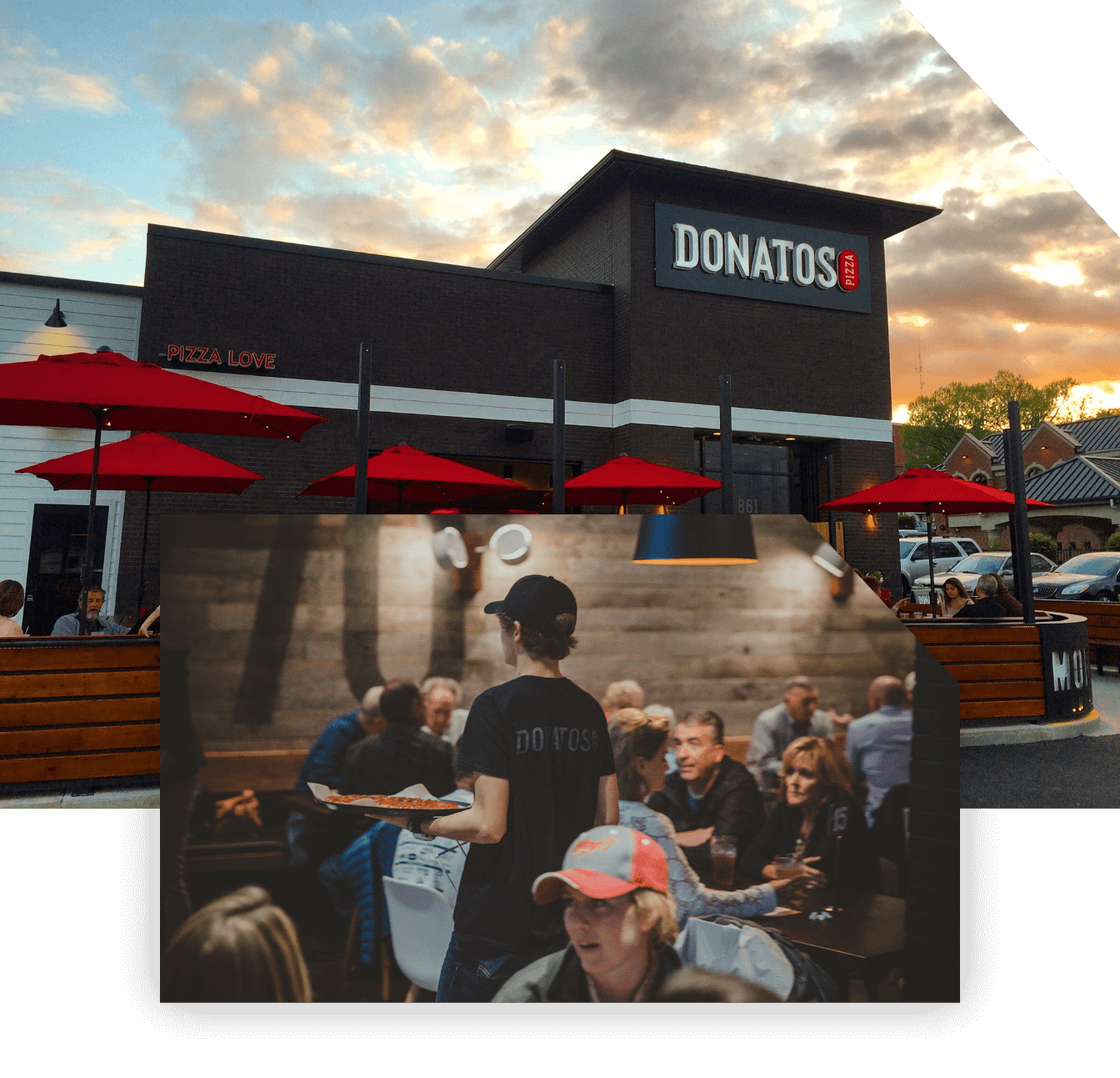 We're proud to provide a consistently delicious product across all Donatos locations. This dedication is embodied by our motto, "Same Pizza, Anytime, Anywhere." For our restaurant Franchise Partners, this commitment has led us to develop systems that take the guesswork out of running your franchise.
WE MAKE THE DOUGH.
Our proprietary Famous Thin, Thicker, and Hand-Tossed pizza crusts are made at the home office bakery and shipped to your location. This is to ensure a consistent product from location to location and from pizza to pizza.
WE SET THE STANDARDS.
To reach peak pizza perfection, we developed a formula that explicitly spells out how much to use of each ingredient by weight and specific bake times. This allows our restaurants to focus on pizza production, reducing food costs, and delivering great customer service.
WE INNOVATE THE MENU.
Our Menu Innovation Team has extensive experience and constantly tests new menu options to ensure that our offerings are on-trend and keep customers coming back for more.
There are eight key ingredients that make our pizzas stand out from the competition and ramp up the crave factor for our brand fans and newbies alike:
1

Our pizzas are loaded Edge to Edge® with toppings, so pizzas are always consistent.

2

We put 100 pieces of family recipe pepperoni on every large thin-crust pepperoni pizza.

3

Famous Thin Crust pizza that's party cut, so there's more to go around.

4

We slice our fresh Roma tomatoes, onions, and green peppers each day for our pizzas, subs, and salads.

5

We take pride in our dough. Whether it's our famous thin crust, cauliflower, gluten-free, hand-tossed, or thicker crust, it is baked to golden perfection.

6

We use real aged smoked Provolone cheese because it's more flavorful.

7

No artificial flavors or colors in our pizzas, subs, or salads.

8

The chicken in our pizzas, subs, and entrée salads is sliced natural white meat.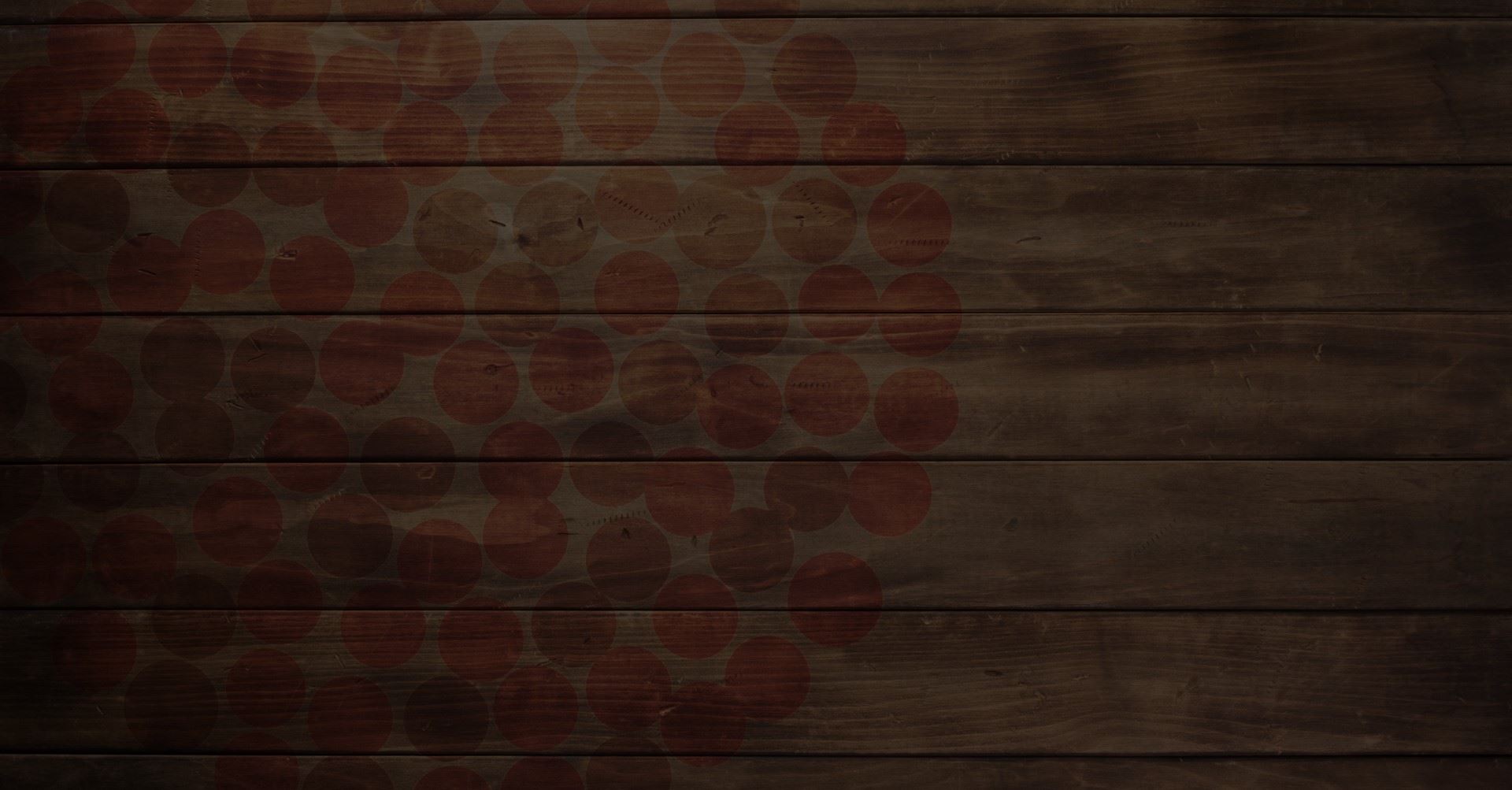 Bake Something
Amazing

with Donatos.
A Franchise Made the Right Way.
EXPERIENCED LEADERSHIP

With decades of experience as industry leaders, we have invaluable wisdom and insight you can trust to help launch and grow your franchise business.

CUTTING EDGE SUPPORT

With hands-on training and support – we have industry experts at hand to help you every step of the way; from marketing to operations training.

FLEXIBLE DESIGN & EFFICIENT OPERATIONS

Flexible restaurant designs include pick-up windows, efficient kitchens, and the ability to meet peak and catering demands.

INNOVATIVE TECHNOLOGY

Our online ordering platform is top of the line and accounts for more than 60% of our sales. Guests can order on our app for delivery or pick-up. Our predictive intelligence calculates delivery times and demand for drivers.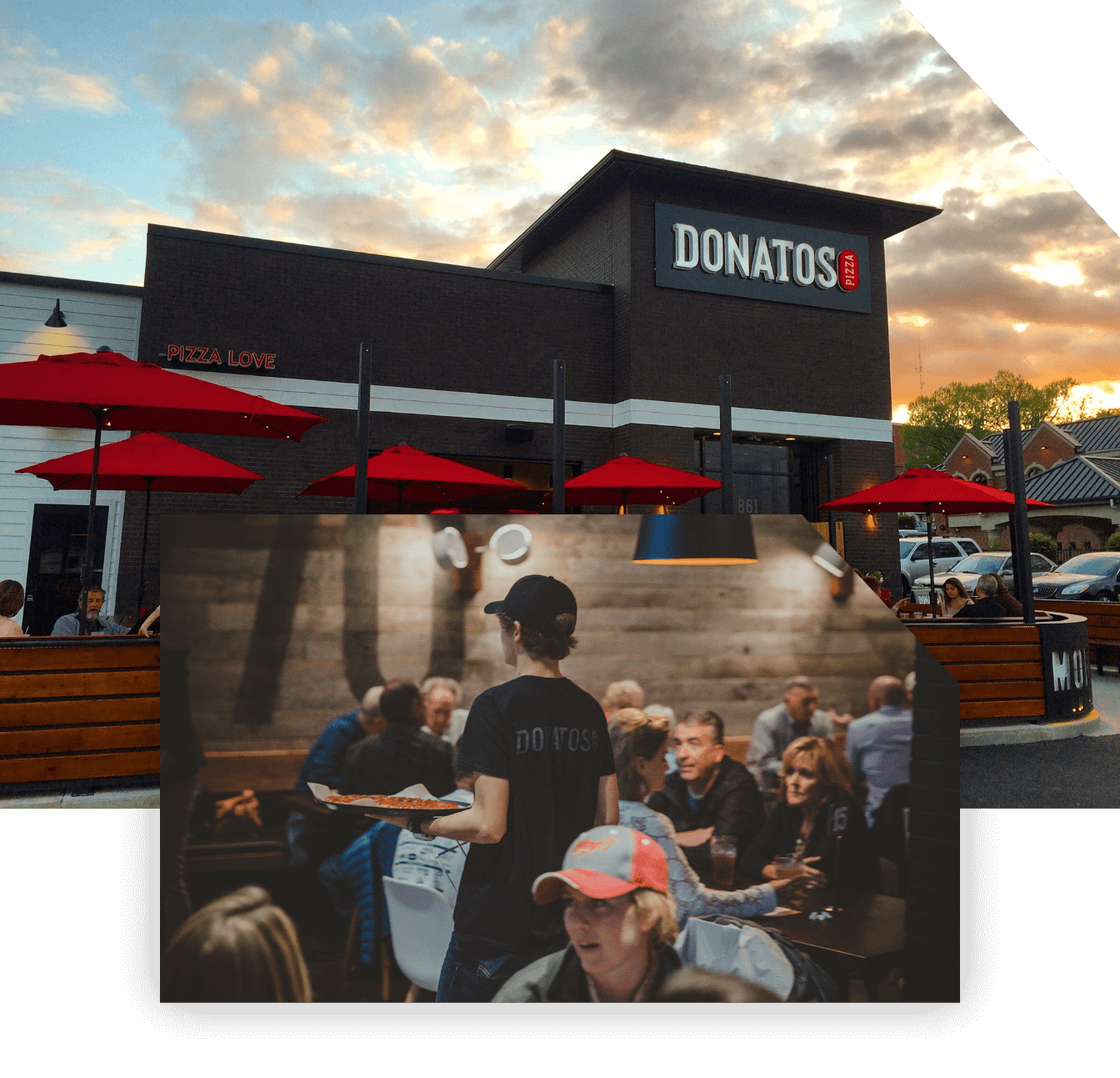 Ongoing
Training & Support

– and a Team Behind You.
The training programs and expertise we use to educate over 1,900 company associates who operate high-performing restaurants is available to you and your staff. This includes custom-designed curricula for our Franchise Partners and your management staff. We also provide an ongoing online training curriculum for your associates.